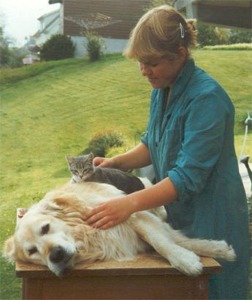 Hunden Foxy, katten Spretti og meg i 1980
A short presentation of Margunn Tvedten, owner of kennel Aquamanda - written by Webmaster:

Margunn Tvedten was born in 1964 and grew up in Voss; in the Western part of Norway. She finished her studies as an Agronom (farmer) in 1985 and graduated as a Veterinary from Norges Veterinærhøgskole in 1992.
Margunn works as a Veterinary at Lørenskog Dyreklinikk, one of five Norwegian Pet Hospitals being approved by the Norwegian Veterinary Society. She also has a tiny private practice with home visits.
Her very special cat Nicoline has her own page.